Guide to the World Handicap System – Updated 11/09/20
The World Handicap System commences in the UK on November 2nd 2020 .
Find out  all you need to know via the link .
Update 11/09/20
HLSGC has received its official course rating for WHS purposes.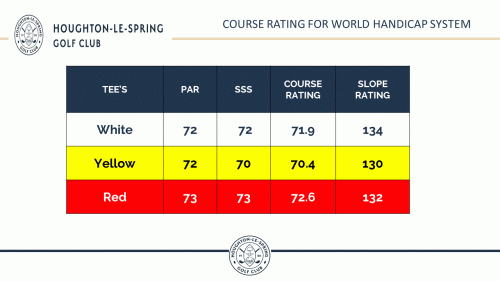 NB :  *Our existing SSS has changed on the white tees from 71 to 72 and on the the yellow tee's from 69 to 70.   The red tees remain at the SSS of 73 . The new SSS  will be in place for all competitions with immediate effect until the new system comes into operation on November 2nd 2020 * 
Slope ratings can range be between 55 – 155. 
113 is considered the 'standard' and is used in the calculation of your course handicap . 
Course Handicap = h'cap index  X  ( slope rating / 113) .
The new course ratings have been forwarded to England Golf who will shortly begin the process of migrating existing score data into the new model. 
Your handicap index will be calculated using your existing playing history which is then converted using the calculations under the new system .
You can expect to see your projected new projected 'Handicap Index'  in October in readiness for new system on November 2nd 2020.
We also have our Course Handicap Table which is how you determine the amount of shots you are given on our course according to your handicap index.  Competitions may also have a playing allowance applied to the Course Handicap (i.e 95% in singles is recommended  ) .
When viewing the tables below please consider that your handicap index is likely to be different to your current CONGU handicap .
Please continue to familiarise yourself with the players guide at the top of this post in readiness for the launch date. 
Ian Cassap
Competition & Handicap Secretary
Ian Cassap
Competition & Handicap Secretary