Mulligans – Takeaway Service from 16/05/20
From tomorrow 16/05/2020 10am  our chef Dave Stockton is back with a takeaway version of Mulligans Restaurant.
Opening 11am – 5pm  Wed – Fri , 10am – 5pm Sat,  11pm – 5pm Sun.
Orders strictly in advance by phone to 0191 5840681.
If you require food after your round please ring no later than when on the 16th Tee to collect after you have left the course and returned your equipment to your car.
A strict outdoor route to the clubhouse patio doors is in place for Mulligans and must be followed at all times..
Let's all support Dave getting back up and running again !!
Welcome Back
Menu below.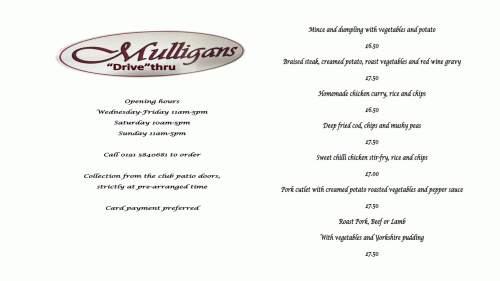 HLSGC COMMITTEE