Junior Section
Team Fixtures 2019
| | |
| --- | --- |
| Thurs 2nd May |  v  Boldon (h) |
| Thurs 9th May | v George Washington (a) |
| Thurs 16th May | v South Shields (a) |
| Thurs 23rd May | v Ramside (h) |
| Thurs 6th June | v Chester le Street (a) |
| Thurs 13th June | v Heworth (a) |
| Thurs 27th June | v Boldon (a) |
| Thurs 4th July  | v George Washington (h) |
| Thurs 11th July  | v South Shields (h) |
| Thurs 18th July | v Ramside (a) |
| Thurs 25th July | v Chester le Street (h) |
| Thurs 1st August | v Heworth (h) |
---
2019 Junior Club Championship – 13/07/19
Congratulations to Dan Ellison on wining the 2019 HLSGC Junior Championship.
Dan continued his impressive season with fantastic gross scores of 71 Rd1 & 72 Rd2 to win by 13 shots overall seeing his handicap reduced to 3.8 ! Dan also claims the handicap cup with a first round Nett 66.
Some excellent scores were returned by all the competitors including a 2nd round Gross 74  (nett 64 ) by  Captain Oliver Norden who finished in second place after a first round 82 giving him a total of 156 overall.
See the link for full results
Junior Club Championship and Handicap Cup 2019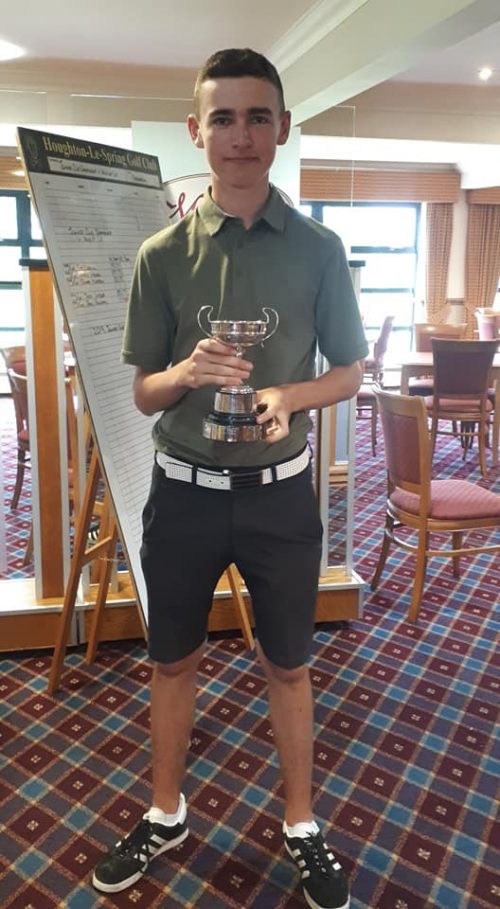 Dan with the Championship Trophy 
---
Congratulations to the Nett winners at Durham County Boys Championships today at Boldon. Dan Ellison (U18) and Jack Laidler (U16) from Houghton-le-Spring Golf Club.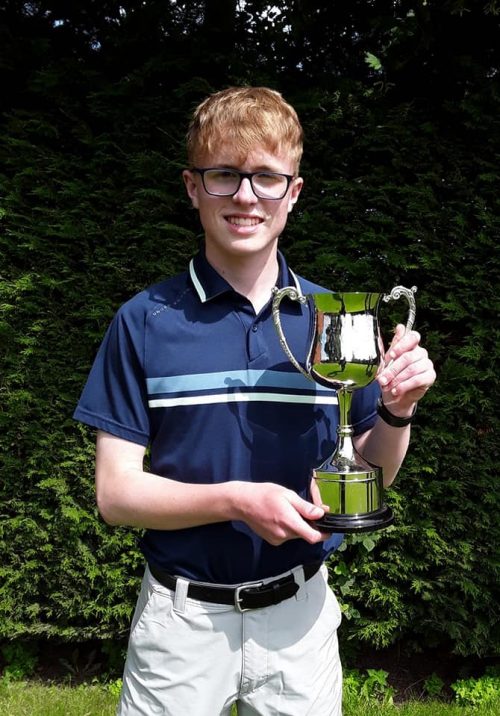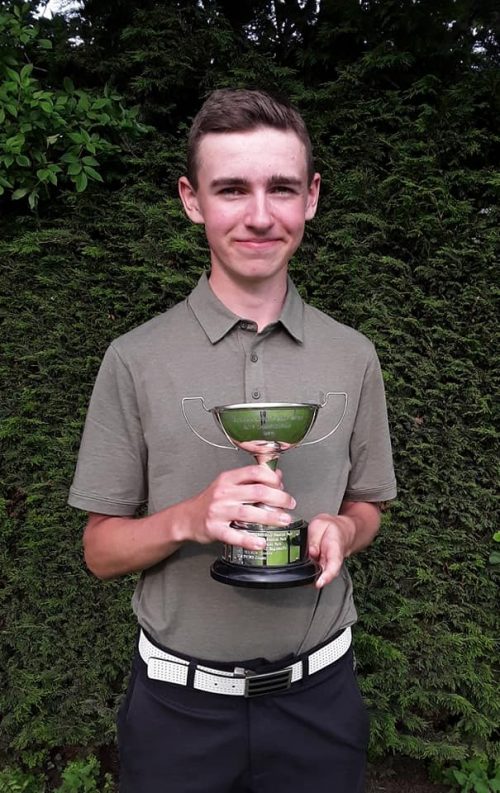 ---
Ladies and Juniors Team Event 11/04/19
1st place
S Gilmour,  H Pryor,  O Norden,  E Rought. 24.9 points
2nd place
J Ellison J Hodgkinson, J Howell,   O Ridley 26.6 points
3rd place
C Bryson, V Taylor, J Whelan, O Turvey. 26.7 points
4th place
C Coleman,  V Grant, C Reed, H Grayson. 36 points
---
Durham County Junior Foursomes – Dan & Ryan reach final!!
---
Ladies and Juniors draw – 11.04.19
---
Junior Liaison Officer – Joanna Ellison
Thank you to all the families and members who made our annual Family Race Night such a success again. Special thanks to Graeme Anderson for running the evening as always and also to Oliver's mum Lisa who's help was very much appreciated.
The winter has flown over and here we are at the start of the 2019 season with lots to look forward to. Plans to have a measured Blue Tee course are well underway with our 3185 yard course now marked out ready for our Academy Juniors to use very soon. I'm also very pleased to confirm that we are part of a Blue Tee League pilot in Durham County this year with our younger members having the opportunity to represent the club against Chester le St, Wearside and Boldon in 6 hole team games over the summer months.
We also have a great opportunity from Houghton le Spring 41 Club's through their work to support developing young people in the community.  I will have tickets for sale for their 8th Annual Beer & Cider festival on Friday 10th May at five pounds each. The more ticket holders we have there on the night the more entries we get into the Golden Ticket draw meaning we could win top prizes of five hundred or one thousand pounds for the section. Anyone interested in tickets please contact me or leave your contact details, along with number of tickets needed, behind the bar for me.
Finally, I'd like to wish Oliver an enjoyable and successful year as our Junior Captain for 2019!
Joanna Ellison
JLO
Captains Blog
Spring Captains Blog:
Hello, welcome to the Houghton-le-spring G.C junior page. I am this year's junior captain, Oliver Norden and this is a blog of what goes on in our junior section:
Recent events:
Family Race Night- This years Family Race Night was a great success with many juniors attending and a total of £297.50 raised for the junior section. Thanks to everyone who attended and contributed.
February Half Term- A Texas Scramble was played between 14 of our juniors of mixed ability and age to showcase the variety in our junior section, the winning team was Dan, Ryan, Leo and Thomas scoring 44 for 12 holes!
Future events:
Junior Team – As the golfing season begins our junior team fixtures will be played every Thursday (home and away), first tee time from 5pm and it would be great to see as many people as possible turn out and support the team.
We start the season with a 5 man team cup game away to Hartlepool in April, date to be confirmed with our opening league game on May the 2nd at home to Boldon as we look to kick start a campaign for this years North East Junior league title.
As well as this, we also have a pair competing in this year's Junior county foursomes at Whitburn and Hartlepool on the 6th and 7th of April, I wish Dan Ellison and Ryan Mackie the best of luck in this year's event.
Junior competitions-This year is the most exciting year for our younger juniors with many competitions scheduled throughout the year and a new Blue Tee junior league to represent the club within the county.
For our older juniors, there are our usual annual competition to play for as well as our junior match play and Parent & Child knockouts to compete in. Please see the fixture page of the web site for full calendar of events – link below:
http://www.houghtongolfclub.co.uk/wp-content/uploads/2019/03/FIXTURES-2019-.pdf
In addition to the competition fixtures, we will hold Junior Roll-Ups on a Saturday afternoon when there are no formal junior competitions. These will be hosted by myself and my vice captain, James Howell. We would like to invite juniors of any age or ability to join in with both fun and competitive golf. A meet up time will be arranged on a weekly basis via our Facebook page (Houghton Golf Club Junior section) or by text message.
Thank you for reading the blog. I will keep you updated with all major news and events throughout the season. I look forward to seeing you all throughout the year of my captaincy,
Enjoy your Golf!
Oliver Norden
Junior Captain 2019
Junior Facebook Page: